trending now
Advertising Compliance and Brand Guidelines Reminder
November 8, 2023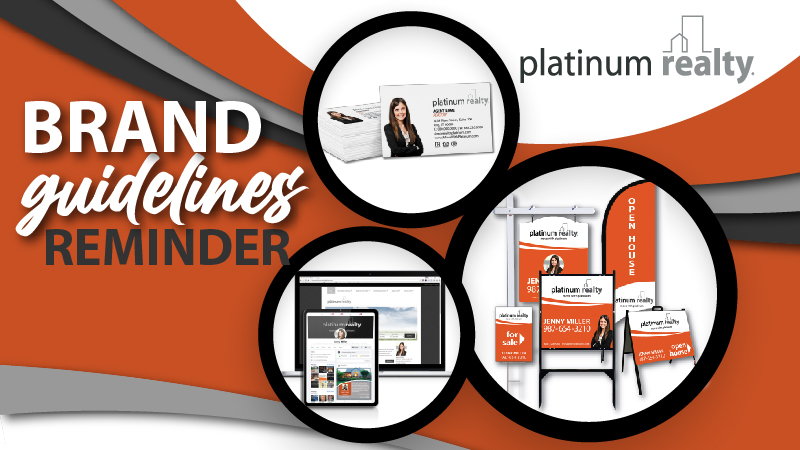 Platinum Realty's business model was built for agents with an entrepreneurial spirit. Our agents have the freedom and flexibility to run their businesses as they choose without compromising the support needed to grow a business. We're excited that over 2,300 agents share our vision and have chosen to call Platinum Realty home. And with the significant growth we've experienced, we think now is a great time for a quick reminder of our branding and logo guidelines.
Why are Platinum Realty agents required to adhere to branding and logo guidelines?
Platinum Realty is ultimately held responsible for your business and practices. Neglecting to include the Platinum Realty logo with your real estate branding to the public is a violation of real estate law. Real estate commissions routinely check for this during audits and non-compliance is a finable violation. But more importantly, you'll want to take advantage of the local and national brand recognition Platinum Realty has achieved.

What logos and brand guidelines should I be using?
The Platinum Realty logo needs to be prominently and conspicuously displayed in comparison to the licensee or team name.

The office phone number (888-220-0988) must be displayed on all marketing materials.
Using older versions of the Platinum Realty logo is strictly prohibited. Distorting the logo in any way is not permissible. For detailed guidelines and information about approved Platinum Realty logos and assets please review our Brand Guide. We encourage you to download and save this guide for quick reference.
Under the AGENT TOOLS > PLATINUM BRANDING tab, you will find various Logos and Brand Assets available for your use. Here you will find a variety of logo formats as well as logo-ready email headers, open house sign-in sheets, letterheads and more.  Additionally, under the same Platinum Branding tab, you can access the Bullseye Marketing Hub with pre-made and customizable social posts, flyers, postcards and more. All templates include the necessary information to be compliant with Commission rules.
How do I get Advertising Approved?
Under the Agent Marketing tab in Agent Tools you can choose the Advertising Approval form. This creates a case for our support team and they can review your advertising and make sure you are compliant. This is the best way to know you have done everything correctly.
When do I need to follow these guidelines?
The simple answer is every time! Anytime you are promoting yourself as a real estate agent, the company logo is required.
Where is it necessary to include the Platinum Realty logo and phone number?
PRINT MARKETING: i.e. postcards, newsletters, listing flyers
SIGNAGE: All yard signs should have the current Platinum Realty logo
ONLINE: All online activity that relates to your real estate business, i.e. website, social media, emails
We encourage you to review all of your online and print marketing to ensure that you are following our Branding policy. If you have any questions or need any assistance, please contact the Agent Support Team.