trending now
DMAAR Personal Promotion MLS rules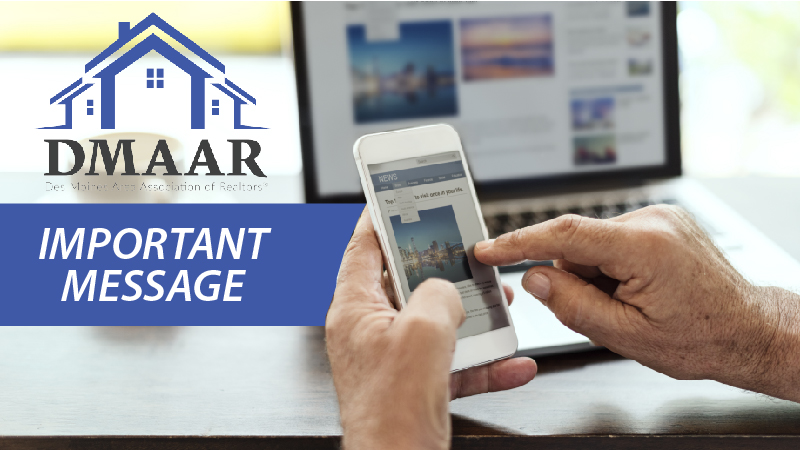 DMAAR has announced that they are experiencing a lot of MLS violations lately.  Especially in the new/proposed construction section and overlays on pictures that do not conform to the rules.  Their office has been contacting agents to let them know. Please review the Personal Promotion MLS rules on this subject below.  Please also remember that with New and Proposed construction you must choose New or Proposed. If you skip this step your listing will not appear in searches that members have set up with those requirements.
Personal Promotion MLS rules
(e) Personal Promotion:  Listings entered into the MLS are intended to promote the property and not intended for use as a personal or company marketing vehicle. Prohibited items from marketing remarks and property photos shall include but not be limited to;
agent/company name or photos,
phone numbers,
Web site addresses,
"call for showings" or "open house" overlays,
for sale signs nor text or any other items overlaid on photos.
Exceptions are new construction listings using a "Similar To" banner, proposed listings using a "Proposed" banner, or *Watermarks to protect images from copyright infringement. (See definitions.)
When a subscriber fails to comply with this rule and has been given notice by the MLS that the Subscriber is in violation of the rule, the Subscriber must remove such information from the listing within 48 hours. If such information is not removed within 48 hours after the date of the notice, the Subscriber shall pay a $100.00 fine. Subsequent violations by a Subscriber shall require a $250.00 fine.
Definitions:
New Construction: New Construction shall be used as a property type in the MLS to describe a dwelling that has the framing walls in place. If not using an actual photo of the property, it is acceptable to use a photo with "Similar To" placed within the frame of the picture.
Proposed Construction: Proposed construction shall be used as a property type in the MLS to describe a dwelling that does not meet the New Construction definition. If a photo is used in this definition, then a banner stating "Proposed" must be placed within the frame of the picture. When a listing meets the New Construction definition, the listing must be changed to reflect the new type.
*Watermarking: Images may contain a Watermark to protect authorship and identify the origination of an image, provided it meets these guidelines:
Shall contain the symbol ©, shall contain a four-digit year, and shall contain up to a 5 character abbreviation for the brokerage firm who holds the copyright. (Eg. © 2014 ABC)
Must be screened back 50% or more from a black or white font.
Must be located anywhere in the lower-left 1/8th of the photo. (Commentary: That will help keep them unobtrusive, but also gives the Watermarker the ability to move it enough into the photo to prevent a scraper to 'chop off' the Watermark.)
Font height must be no more than 5% of the image height, and no more than 20% of the image width. Font must be Arial and cannot be bold.
Help DMAAR maintain accurate data
DMAAR would also like to remind you that the MLS is self-policed and at the bottom of each listing is a link "Report Data Error to the MLS Administration".  Data checkers can check things in reference to the MLS rules but the office staff individually type and fill in the requirements. Due to this they sometimes make mistakes, but mistakes can be fixed.  Data checker can not determine intent or look at photos-only the DMAAR staff can.  The MLS is dedicated to providing accurate data and with everyone's help, they hope to achieve this.