trending now
Earn Cash with Referral Reward Points
October 5, 2021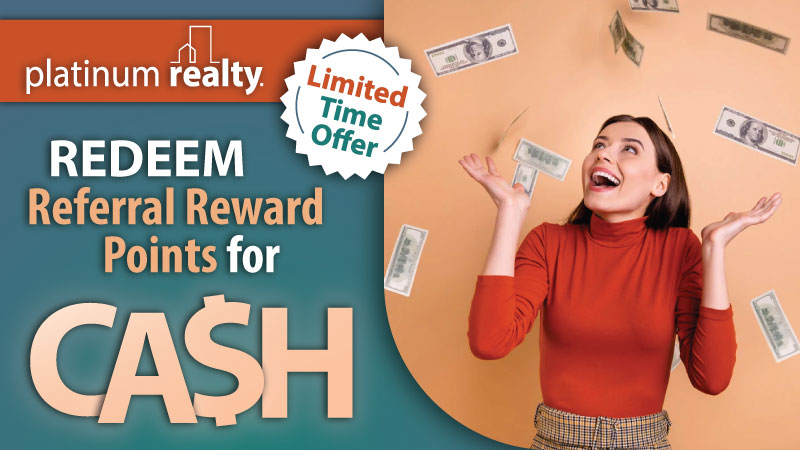 Earn CASH with Referral Rewards now through December 31st!
Just in time for the Holidays and end of year expenses, the reward points earned by referring agents to Platinum Realty over the next few months can be redeemed for cash!
How are referral rewards earned? Refer an agent that has not yet interviewed with Platinum Realty. If hired, you earn 100 reward points for each transaction they closed in the previous year. (Max 2,000 points per referral.) Reward points are added once the referral has completed orientation. Points earned from now through December 31st may be cashed out for $.50/point (see example below).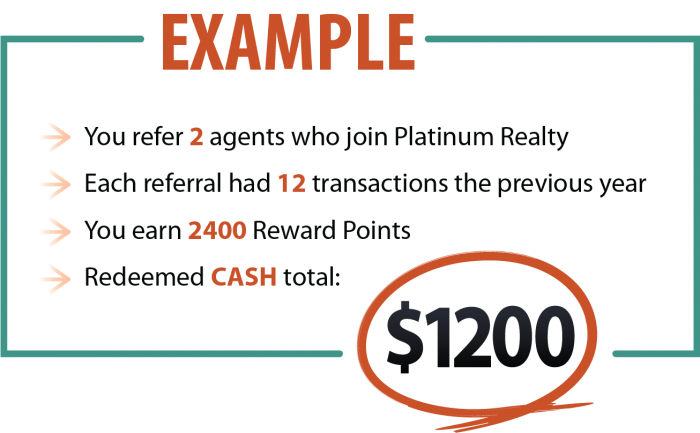 How do I refer an agent? You have a few options:
Fill out the form online below

Have the referral tell the interviewing team member you referred them

Have the new agent write your name on the on-boarding form
How do I redeem my Referral Reward points for cash?
Once your referred agent is hired and completes orientation, you will receive an email letting you know that the points have been added to your Rewards Account.

A cash option has been added to the Rewards Shop during this promo. Simply select that option and money will then be directly deposited into your account.
Earning extra cash is easy, and there is no cap on how many agents you may refer. So, start sharing the benefits of Platinum Realty and send in your referrals!
Refer an Agent