trending now
HOW TO: Name and Sign Agreements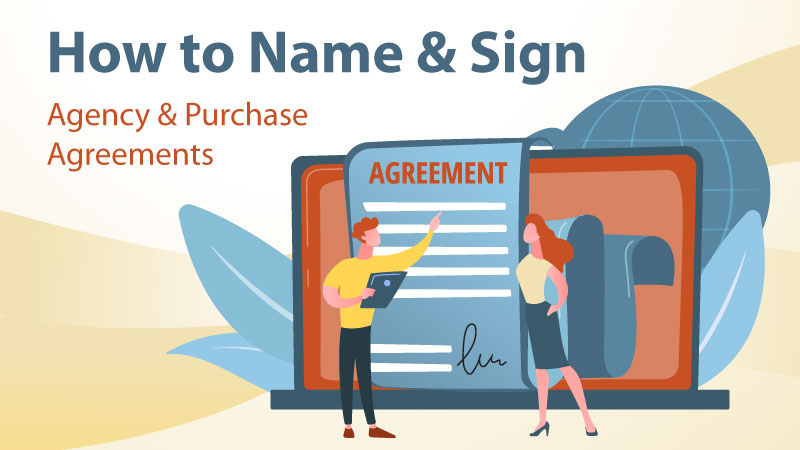 Agency and purchase agreements can get confusing when the buyer falls out of the norm (i.e., the buyer is an LLC or trust). Here is a guide to help you follow best practices and avoid mistakes when naming and signing these agreements.
TRUST
NAMING:
A Trust will always include 3 THINGS:
Trustee Name
Name of the Trust
Date of the Trust
"Sally Seller, Trustee of the Sally and Sam Seller Trust dated ___________"
and may include other descriptive language, i.e., Revocable, Living, etc., all of which is required to be on the Contract or corrected in the body of an Amendment if unclear when writing the offer.
Although the appropriate signatures of the Trustee(s) are required, it does not remove the requirement for naming the current Trustees of the Trust. If a Trustee(s) is/are deceased, the surviving Trustee or Successor Trustee(s) is/are required to be included on the Contract but, of course, not the deceased party. The actual name of the Trust does not change by reason of a deceased Trustee or Trustees.
SIGNING:
Generally, if you are a trustee you should identify yourself as the trustee on all trust-related paperwork by signing your name followed by the words "as trustee." As an alternative, you can also state your name followed by "as trustee and not individually." Doing so will help ensure separation between you in your individual capacity and you in your role as trustee.
ESTATE
NAMING:
If title to the property is in an Estate, there will be an Administrator, Executor or Personal Representative who needs to be identified as such and sign the contract.
REO/BANK OWNED, CORPORATION OR LLC
NAMING:
If title to the property is under an LLC, Corporation or REO/Bank owner – there will be an designated person who needs to be identified as such and sign
SIGNING:
The proper signature is "John Smith, Manager, ABC Company, LLC." Since companies cannot sign for themselves, this signature identifies the person signing, the title and authority of the person, and the name of the contracting part
P.O.A./ATTORNEY IN FACT
NOTE: These designations do not apply when there is a Trust or Estate. It applies only on behalf of a living person. In addition, a POA must be specific to allow signing for Real Estate
NAMING:
The Contract name will be as Title is currently held.
SIGNING:
To understand how this works, let's suppose your name is Jill Jones and you have power of attorney to act for your friend, Sam Smith. You could sign a document in either of the following ways:
"Sam Smith, by Jill Jones under POA", or
"Jill Jones, attorney-in-fact for Sam Smith"
Before signing, it's a good idea to ask if 1. Title will allow (with online signing available – POA's are rarely allowed) there's a preferred format for your signature. Sometimes banks or other institutions will only accept a power of attorney signature if it's written in a certain way. You should never sign your name or the other person's name without indicating that you are signing under a power of attorney. Always bring your power of attorney document with you when you transact business on someone else's behalf and make sure the people you do business with know that you are acting under a power of attorney. Death Certificate in file does not take the place of accurately describing the CURRENT surviving seller.
1031 TAX EXCHANGE
NAMING:
Seller(s) name handled the same way we would normally handle
SIGNING:
Seller(s) signature handled the same way we would normally handle
When a typical 1031 exchange is initiated, the Qualified Intermediary is shown as the Seller on the Settlement Statement instead of the exchangor/seller.
Contract Language for the Sale of Relinquished Property
"Buyer is aware and acknowledges that Seller intends to perform an IRC Section 1031 tax deferred exchange. Seller requests Buyer's cooperation in such an exchange and agrees to hold Buyer harmless from any and all claims, costs, liabilities, or delays in time resulting from such an exchange. Buyer agrees to an assignment of this contract by the Seller."
Contract Language for the Purchase of Replacement Property
"Seller is aware and acknowledges that Buyer intends to perform an IRC Section 1031 tax deferred exchange. Buyer requests Seller's cooperation in such an exchange and agrees to hold Seller harmless from any and all claims, costs, liabilities, or delays in time resulting from such an exchange. Seller agrees to an assignment of this contract by the Buyer."