trending now
Tax Q&A for Platinum Agents
January 11, 2022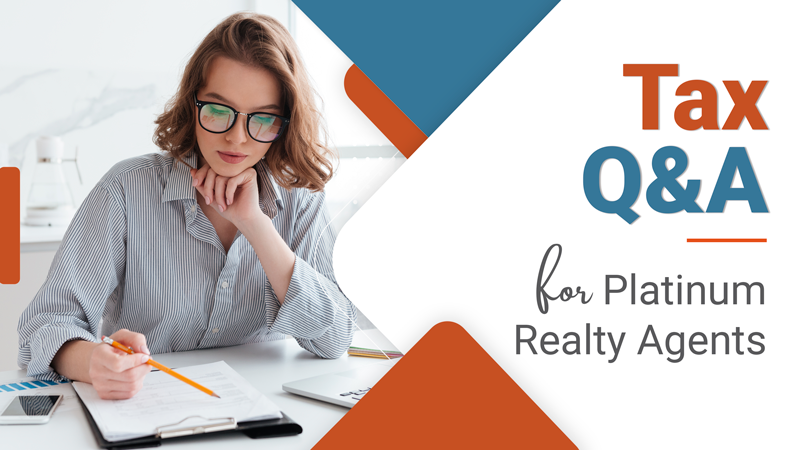 With tax season quickly approaching, it's a great time to get any tax questions answered to make sure you file correctly and on time. Here are some of the more common questions:
Q: When does Platinum provide my 1099 for the prior year?
A: 1099s are sent to agents by the end of January via Email. An announcement will be posted on myagentbackoffice.com and Facebook when they have been sent. Please save your 1099 as soon a you get it for your records.
If you don't find your 1099 in your inbox after the announcement, please be sure to check your spam folder as some emails are erroneously deposited there. Otherwise, email accounting@movewithplatinum.com for research/resolution.
Q: What is included in your 1099?
A: Your 1099 will only include net commission payments to you as both the transaction fee and E&O fee (if applicable) have been netted out. Note that payments for other services delivered by Platinum, such as websites, dues, etc. have not been netted out. Any other compensation paid to you by Platinum will also be included, such as the fair value of any rewards points redeemed. All commissions earned and paid by title (closing date) in 2021 will be included on your 2021 1099. For example, if you have a transaction that closes, say, on December 29, but you failed to complete your administrative duties and were not paid by Platinum until January 4, then that will still be considered 2021 income and reported on your 2021 1099. Email accounting@movewithplatinum.com or enter a ticket via the Agent Support Center, if you have any questions.

Q: How can I compare my 1099 to my actual transactions?
A: Email accounting@movewithplatinum.com if you would like a list of items/properties included on your 1099.
Q: What are some tax write-offs I should consider as a real estate agent?
A: Because you are an independent contractor, you can take several business-related deductions. Here are some of the common deductions you might be eligible to take.  Check with your tax advisor for more information:
Commissions paid – According to IRS, any business that pays commissions are usually under fully deductible business expenses. For example, suppose you deal in flipping houses for homeowners who require immediate cash, and you contracted two more partners with whom you promised you would give them a 5-percent commission on each sale. In the previous year, one partner finalized a sale of $600,000 and another for $1,000,000. You would deduct $80,000. This amount should be reflected in your tax form in Schedule C of 10th expense line.
Business travel – The IRS allows you to add your business travel expenses. However, you only can claim a 50-percent deduction on the cost of meals when you are on a business trip. If you are driving, the IRS enables you to deduct 57.5 cents per mile.
Home office expenses – If you are using your home as an office, you can deduct the amount as per square footage utilized for office work.

You have two options for this deduction—regular or simplified. Choose the option that gives you the bigger deduction.
Self-employed health insurance deduction – Tax preparation for realtors can be challenging, as it not only includes business deductions, but self-help deductions as well. Health insurance is deductible if you are a Schedule C filer, and your real estate business had a net profit for the present year. Realtors can easily calculate earnings using the optional method on Schedule SE or own 2-percent more of the shares in S-corp earnings you received. If you think you meet any of these descriptions, the premiums that you pay for you and your family can be deducted on line 29 of Form 1040.
Marketing and advertising expenses – Did you spend money on a flyer, business cards, ads, signs, promos, etc.? All are deductible as per IRS. Even your website development cost and running ads online are deductible. You can make this deduction in Line 8 on Schedule C.
Business equipment expenses – Every business requires some technical equipment to stay competitive. You can deduct the purchase price of business equipment, including your cellphone, computer, software and office supplies. You can also account for depreciation for any expensive equipment like computers by using the Modified Accelerated Recovery System. This method helps you to recover the actual purchase price of your business equipment over the years.
Fees, licenses, memberships and insurance – According to the federal tax system, you can deduct different annual fees for doing business. Being a real estate business owner, you can claim for professional membership, state license renewal and MLS dues. General business insurance and errors and omissions (E&O) insurance are both fully deductible business expenses, as well. Plus, you can deduct real taxes while filing your taxes, but not self-employment taxes. Note: The portion of your professional membership dues attributes toward encouragement and political sponsorship is nondeductible.
Software and business tools – If you are using software to run your real estate business, the purchase is fully deductible, which includes lead generation subscription services such as customer relationship management (CRM) software, or accounting software.
Legal or professional services – IRS gives you the right to write-off any professional services that you may use throughout your business lifecycle including tax professionals, legal professionals, web development professionals and graphic designers.
Education and training – Real estate continuing education and professional development is a great way to stay competitive (and CE is also a requirement in most states). Your education is tax-deductible, including online courses, classes, trade shows, conferences or coaching.