trending now
WHY BOARD FORMS ARE IMPORTANT IN MULTIPLE OFFER SITUATIONS
January 3, 2022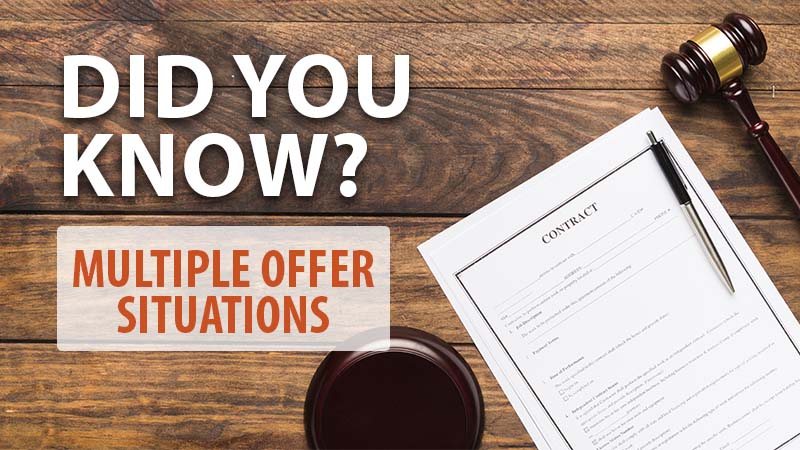 More than one buyer interested in buying a home?
It is sometimes true that in the real estate business we end up with more than one buyer interested in the same house at the same time. In those cases, the seller needs to make a choice about who to enter into a contract with. A seller cannot sell the same house twice – at the same time. The seller needs to enter into the first contract and if a second comes along make sure that it is contingent upon the first contract going away.
This could happen in the context of the house that goes under contract contingent upon the buyer being able to sell their other home. If that is true, then the second contract needs to be contingent upon the first one going away. It is typical that when we use a contingent on the sale of another home addendum the first buyer is told that they will have a relatively short period of time to remove the contingency or have their contract removed and become a second contract. However, that first contract remains a contract until it is canceled. On that basis, if the first buyer simply refuses to cancel the agreement, even though the contingency addendum language would require it, there is still a first contract. Some title companies may not allow a closing on the second contract without resolution of the first.
Because there is always risk that the first buyer has the better argument, based on facts you do not even know, it is possible for the first buyer to come back in. The title company does not want to be in the position of risking their money by putting themselves in the middle of litigation over which contract has priority. Clear language that details the second contract is contingent upon the first one going away is therefore required.
Typical language in board-approved forms for back contracts accomplishes this goal.
Source: https://kansasrealtor.com/category/legal-hotline/